Did you ever consider how difficult it must be for the Shadowlands...coming up with unique plans to scare the heck out of you samurai-types is hardly the easiest job in the world. A shout out to Todo, Shimerkiri, and the rest for continuing to scare us...most of the time.
KYUDEN KOMIC #2: The EVIL!!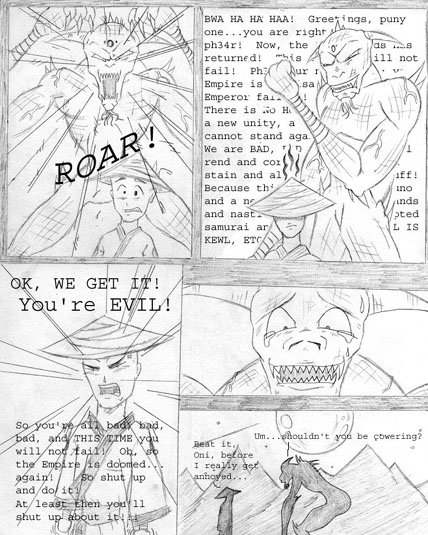 One death threat so far... ;p. - Kakita Brent (11/15/01)
ADDITIONAL LEGAL STUFF (JUST IN CASE): THIS COMIC IS MADE BY A POOR ARTIST (ME). L5R IS SOMEONE ELSE'S; MY PURPOSE WAS TO ENTERTAIN; ANY OTHER EMOTION THAT YOU'RE FEELING WAS STRICTLY A BY-PRODUCT.